Product Description
Cone-Shape Helical Ribbon Vacuum Dryer Introduction:
Cone-Shape Vacuum Dryer Machine has completely changed the defect of large volume, high energy consumption, long working hours, inefficient, loud noise, easy packing, much missing dots, the uneasy cleaning and inconveniently maintaining.
At present, it is multipurpose drying machine which has the power energy loss, maximal efficiency, the best effect in the same kind equipments home and abroad.
Energy saving:
Compared with traditional drying equipment, for example,bipyramid vacuum drying machine, tray vacuum drying machine, hot air oven and so on.
1. In the same condition of volume, charge materials can be increased more than one time.
2. In the same condition of energy consumptions, it can be incrased to two times to five times in drying production.
3. Drying time is less than one third of traditional drying machine.
Heating System-- based on the traditional tank jacket heating, be added with the internal heat of the propeller, so that th entire area becomes 140 percent of the container, greatly enhancing the efficiency of the heating.

Senate gas system:
The multipurpose high effective drying machines have joined the uniques senate gas system, greatly improving the drying rate materials.
Stir system-- propeller agitator makes the materials upgrade and continues to make it to cut and distributed, Ensure that all maerials within the hopper are fully moved, and makes materials in a no external compression space in addition to the upgrading of the propeller from the outside, avoiding the invalid friction between the materials and tank. A unique hybrid that meets the propeller mixing effects, can increase the heat transfer area and the effect of shear smash, and avoid heat sensitive materials or asa result of particle agglomeration phenomena.
Main Features:
1. Vacuum Dryer Machine is ideal dryer compared with traditional drying machine for material easy caking and granules
2. Helical Ribbon Dryer is short working hours, high efficiency and large capacity
3. Helical Ribbon Vacuum Dryer is special power drying machine
4. Vacuum Drying Machine is low temperature
6.High efficiency:The machine is set for drying, mixing and distillation in one of the efficient multifunctional closed vertical vacuum drying equipment complied with GMP requirement. its drying efficiency is as 3-5 times as the same specifications of other dryer.
7 .High mixing precision:It can reach high mixing uniform, Even mixing of different density and different particle shape material in the same batch of products, can achieve the required mixing precision in our machine. Even adding very litter materials in a large quantity of materials, the machine can reach perfect mixing uniform.
8. Low shear strength stirring:It adopt low shear strength stirrer, which can gently mix the materials with low speed rotary and energy consumption. the mixing strength and time not much.
9.Sealed design:The machine is total sealed design with all the connections include the loading and discharge nozzle fixed, which can fulfill the requirement of the materials and safe environment.
10.Energy saving: Compared with traditional drying equipment, for example, bipyramid vacuum drying machine, tray vacuum drying machine, hot air oven and so on.
1). In the same condition of volume, charge materials can be increased more than one time.
2). In the same condition of energy consumptions, it can be increased to two times to five times in drying production.
3). Drying time is less than one third of traditional drying machine.
Options
1. Ribbon Design:
We offer several types of spiral ribbons for different sizes and applications.
2. Construction Material & Sanitary Finishes:
We are able to offer our Ribbon vacuum dryer with contact part to be built in Carbon steel, SS304, SS316/316L, Titanium, Duplex stainless steel, etc. Standard of internal and external finish can be adopted to the customer's needs. Multiple types of finishes are available also, including sanitary type & even electro-polishing with proof of passivation.
3. Feeding & Discharge Options:
Screw vacuum dryer can have a variety of feeding & discharging methods that match the demands of the filling & production line.
4. Drive Systems:
Ribbon drying machine have a drive system by Geared Motor, Cycloidal Reducer, worm reducer, belt or chain transmission, etc.
5. Heating & Cooling Jackets:
Ribbon vacuum dryer are available with jackets for heating / cooling operation.
6. Custom Engineered Dimensions:
Dimensions of our conical screw vacuum dryer can be defined according to customer's requirements.
7. Ribbon Mixer Sizes:
screw vacuum drier from 100 to 5000 lit. total volume with bigger size as per request &. more.
Conical Paddle Drier Application:
Conical Paddle Drier is widely used in pharmaceutical, chemical, foodstuff and electronic industries.
The machine is suitable for vacuum mixing and drying of power and granule raw materials of pharmaceutical industry, chemical industry, foodstuff industry etc. Particularly it is suitable for row materials that have the follow requirements:
1.Themal sensitive raw materials that cannot be dried at high temperature.
2.Raw materials that is easy to oxidize and dangerous.
3.Raw materials that solvent and toxic gases are needed to recover.
4.Raw materials that have special requirement for crystal shape.
5. Raw materials that have special requirement for the content of residual colatile.
Constitute:
The Helical Ribbon Vacuum Drying Equipment consists of stainless steel vertical container, mixing stir device, discharge device, gear device, senate gas system and so on.
Model

Max load

volume

(L)

Speed

(r/min)

Motor Power

(KW)

Adaptable materials

weight (kg)

HW200

160

0~60

2.2

Non- corrosive materials, Liquid, Solid-state ,etc.

1000

HW500

400

0~60

3

1300

HW750

600

0~63

5.5

1600

HW1000

800

0~63

7.5

2000

HW1500

1200

0~63

11

2400

HW2000

1600

0~63

15

2800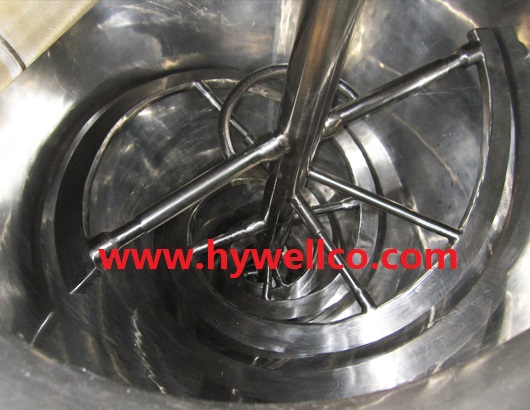 Changzhou Hywell Machinery Co,.Ltd
About Us
Hywell Machinery is a market leader in one stop smart pharmaceutical production solution experts and your premier one stop solution pharmaceutical equipment manufacturer. Hywell Machinery main products include High Shear Granulator, Fluid Bed Dryer, Fluid Bed Processor, Fluid Bed Granulator, Vacuum Conveying, Bin Blender, 3D Mixer, Vacuum Dryer and so on.
Hywell Machinery custom design your project according to your process and layout requirements. As process equipment, we resolved a lot of process problems for clients during 20 years.
Hywell Machinery realized the application is key important, that is why we focus on integrating process and machinery, resolve your process problems.
Expertise from lab to production processes defined by your product. Hywell Machinery also have the laboratory machinery that include the lab granulator, lab powder mixer and lab drying machine.
Hywell Machinery has special kinds of dust-free solid dosage forms granulation lines and Powder mixing lines. Your process in mind innovation technology for special applications.
Hywell Machinery can improve process test service for your best equipment choice. Customize and design best equipment which satisfied with your process. Because only those who understand the process and know details can develop products that can do more than just the sum of individual components. Hywell Machinery support you in pharmaceutical, health product, food, fine chemical and feed processing through our international innovative process solutions.
Hywell customize all documentation related to the equipment, making easier the training, operation and maintenance of the equipment trough the life term even in the more exigent industries as the pharmaceutical market, we provide a complete set GMP documents including Qualifications(DQ,IQ, OQ,) , FAT, SAT, USER manual documentation. We perform the qualification executions as customer requests.
Our business sections are operating under the strict International Quality Standard of operation with control regulation certificate ISO9001 which is called the [International Quality Certifications".
Machine manufacturing is a very competitive business that demands continuing productivity improvements and cost reductions.
Hywell Machinery aiming to be the top-level pharmaceutical equipment manufacturer and supplier.
Passionate about our business, we are continually pushing the limits of our know-how to provide high-quality, innovative, and mixing, granulating, drying solutions for a host of international brands.
Welcome visit our factory at any time!
Hywell machinery Presence & Prospect
Hywell machinery company. is established as the professional manufacturer of industrial mixing, granulation, Drying equipment and system. Our state-of-the-art technology and know-how in this section is originally from China; along with the low labor cost advantage in China, Hywell machinery is born to be your partner for the cost effective solutions in powder mixing & powder granulation and drying system .
Hywell Machinery Product Range
Hywell Machinery are not only able to offer the single machine with modern appearance and advanced technique, but also to offer the full line system to save your time, which is one of our strong points. With our engineers` decades of experience in this area, Hywell machinery is capable to offer the most suitable solution for any industry that has a demand for industrial Mixing & Granulation& Drying equipment.
What makes us so successful is our focus on sustainability through superior engineering. Our units are purposely over engineered to delivery superior performance, not just now for the current application, but for future applications. We know that being flexible and adaptable is key in creating a sustainable business as is superior customer service, support, and technology.
Company Name: Changzhou Hywell Machinery Co,.Ltd
Representative: Shally
Product/Service: Drying Machine , Mixing Machine , Granulating Machine , Grinding Machine , Vibration Sieve , Coating Machine
Capital (Million US $): US1.5 million
Year Established: 2009
Total Annual Sales Volume (Million US $): US$2.5 Million - US$5 Million
Export Percentage: 81% - 90%
Total Annual Purchase Volume (Million US $): Below US$1 Million
No. of Production Lines: 3
No. of R&D Staff: 11 -20 People
No. of QC Staff: Fewer than 5 People
OEM Services Provided: yes
Factory Size (Sq.meters): 3,000-5,000 square meters
Factory Location: Jianhu Industrial Park,Wujin District
Contact Person: Mr. Jeff
Tel: 86-0519-85786231